WHAT'S ON THE CALENDAR
JB Tree Farm
Youth & families, please join on us October 27 at 3:30 PM at JB Tree Farm for a corn maze, hayride and so much more!  The church will cover the cost of any youth attending.  Adults attending need to sign-up in the Fellowship Hall by October 20.  The cost for adults is $10, please pay Brigitte by then too.
Float Committee
If you are interested in helping to construct our float for the parade, please plan on staying after worship on Sunday, November 3rd for a brief informational meeting.  We hope to make a plan and then put that plan into action.  If you have any question please see Brigitte Donlan or Jon Yerty.
Ladies and Lunch
The next Ladies Luncheon will take place on Sunday, November 17 at Jethro's immediately following worship.  Join us for a good meal and some fellowship.  Please sign-up in the Fellowship Hall by November 10.  The cost of your meal will be at your expense.
Sunday Evening Adult Study – Walking with God In the Desert
Throughout the Bible, the desert functions as an image of discord, of loss of control, and of separation from the safety of society. Barren and deadly, the wasteland places of the text meant certain death without access to resources. Many times, God led His people through the desert, where they learned that they would have to depend on His provision for all their needs. What are the difficult places in your life, the moments of loss and pain that can seem impossible to survive? Find God in your deserts as you join us for a video-based study that begins on Sunday September 15th and runs through Sunday October 27th at 6:00 PM.
Family Services Sunday
On the second Sunday each month we will be observing Family Services Sunday.  For several years now we have received non-perishable food items for the Altoona Food Bank on the 3rd Sunday of each month.  We have learned that Family Services, Inc, 2002 Broad Ave, puts out a calendar of items that they need donations of each month.  The Session decided that we would ask you to bring these needed items here to the church on the 2nd Sunday of the month to be given to Family Services.  Needed items for November are: blankets/sheet sets-twin size, pillows & cases, towels & washcloths, bathroom rugs, indoor/outdoor rugs, and gift cards for grocery stores.
Nursery Volunteers
Any adults who are willing to help in the nursery, please contact Joan Conway before December 1.  Clearances are needed but he cost can be reimbursed by the church.  Nursery volunteers already on the list do not need to contact Joan unless you can no longer help.
Our choir practices at Wednesday at 6:30 PM.
Bible Reading Plan 2019
You are invited to read through the New Testament during this coming year.  It is a very simple plan.  You are encouraged to read for five minutes and day, five days a week.  After reading the passage you are encouraged to reflect on its meaning and how you can incorporate its teaching into your life.
For a list of the readings for each week, click here: Bible Reading Plan for 2019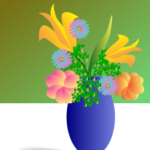 Flower Calendar
If you would like to honor or remember a love one, please sign the 2019 Flower Calendar.  The cost is $40 for two vases.
(Check Back often for Dates and Updates)