WHAT'S ON THE CALENDAR
For children and youth focused events, please see our Youth Ministry page.
Holy Week
Visit our Service Times page for a list of what will be happening during Holy Week.
Easter Egg Hunt
The youth are in need of small wrapped candy for the Easter Egg Hunt. Youth grades 6th-12th are asked to please be in church March 26 to fill the eggs and April 2 to help hide the eggs.  All youth are asked to parade with palms on Sunday, April 2.
Yard Sale

Mark your calendars!  April 22 Outreach Yard Sale from 8 – 12 noon.  Please remember us as you are spring cleaning.  NO clothing or stuffed animals.  Donations being accepted on April 18-20!  Proceeds benefit Krislund scholarships for neighborhood kids.  Posters advertising the event are in the back of the sanctuary.  Please help us publicize this event.
Sunday Evening Bible Study
The wood. The thorns. The nails. Christ's sacrifice has defined the very essence of mankind's faith for the past 2000 years.  Pastor, speaker, and best-selling author Max Lucado invites you to examine the cross, contemplate its purpose, and celebrate its significance with his book He Chose the Nails.  With his warm caring style, Max examines the symbols surrounding Christ's crucifixion, revealing the claims of the cross and asserting that if they are true, Christianity itself is true.  The supporting evidence either makes the cross the single biggest hoax of all time, or the hope of all humanity.
Join us on Sunday evenings at 6 p.m. for a Lenten video study based on the book.  The study will begin Sunday February 26, and will continue weekly through Palm Sunday, April 2.
Thursday Bible Study
Our Thursday Bible Study begins 11:30 a.m. each week.  We are currently doing a video study titled "John: The Gospel of Light and Life" by Adam Hamilton.  All are welcome.
Family Services Sunday
Family Service items for April include the following:high-efficiency laundry detergent; bedding/sheet sets – twin/full; pillows; towels and washcloths; dish cloths and towels; bathroom rugs; shower curtains; plastic food handling gloves; shower gel; pots/pans/dishes/silverware; and small appliances.
Food Bank Sunday
Any donation of non-perishable food items is appreciated.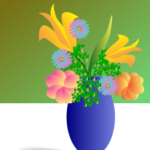 Flower Calendar
If you would like to honor or remember a love one, please sign the 2023 Flower Calendar.  The cost is $50 for two vases.
(Check Back often for Dates and Updates)