WHAT'S ON THE CALENDAR
Directory
Dates for our New Directory are set for September 30 and October 1, from 2 PM – 9 PM.  Appointments will be 30 minutes apart and should move quickly with two photographers working.  Please stop and see Barb and Sue back in the fellowship hall to help you choose a time that is convenient for you.  You will receive a $10 coupon towards a purchase just for having your photo taken, along with an extra $5 coupon if you bring an item for the Food Bank.  Purchases are at your discretion.  Each photographed unit will receive a complimentary 8×10 photo and a church directory.
Family Services Sunday
On the second Sunday each month we will be observing Family Services Sunday.  For several years now we have received non-perishable food items for the Altoona Food Bank on the 3rd Sunday of each month.  We have learned that Family Services, Inc, 2002 Broad Ave, puts out a calendar of items that they need donations of each month.  The Session decided that we would ask you to bring these needed items here to the church on the 2nd Sunday of the month to be given to Family Services.  Needed items for August are: backpacks/lunchboxes, notebooks/composition, books/folders, glue sticks, children's scissors, crayons/markers, pens/highlighters, pencils/erasers, pencil cases, mechanical pencils/lead refills, and Play Dough.
Line Dancing
The Fellowship Team is inviting you to join in a free beginner's class of Line Dancing on August 22 at 10 AM.  It will be an hour of easy moves, fun, plus challenge our brains to learn something new.  If you choose not to dance, then come and be a "cheerleader."  The class is open to men and women.  Please register in the fellowship hall.  Attire is casual, unless your cowboy hat is screaming to be worn!
Blessing of Backpacks, Briefcases, and Lunchboxes
As we prepare for another school year we welcome all children to bring bring their backpack or lunchbox and all adults to bring their briefcase/work bag or lunch box on Sunday, August 25th to be blessed.  It is a comforting reminder that as we head out into the world God's love will always be with us.
Stay after church or come early to have your picture taken (please remember to bring your own device or camera to use) by our Back to School backdrop in fellowship hall to kick off the start of another great school year.
Rally Day
Our first day of Sunday School will be Sunday, September 8 at 9:00am.  We welcome children of all ages to attend!  Classes this year will be: Nursery, PreK/K, 1st-5th grade, 6th-12th grade, and Adult Sunday School.
Survival Foods in the Wild
Mark your calendars for Sept 11, at 10 AM, for an informative session on Survival Foods in the Wild.  The fellowship team has asked Nancy Woomer to speak and answer questions on edible plants.  A few refreshments relating to the session will be served.  A sign-up sheet is posted in the fellowship hall if you plan on attending.  Everyone is welcome to come to hear Nancy as she shares her knowledge.
Ladies and Lunch
Calling all ladies of the church, please join us on Sunday, September 15 immediately following worship for our first lunch out on the town. We hope to have these luncheons throughout the school year on the third Sunday of the months of September, November, January, and March.  We conclude the school year with a special event in May. Our first lunch with be on September 15 at the Marzoni's in Greenwood.  Please sign up in fellowship hall if you plan on attending by Sunday, September 8.  We will meet in fellowship hall immediately following worship to either carpool or caravan to the restaurant. (Even though this luncheon is a church-sponsored event, each person is responsible for paying for their meal.)
Card Making
There will be a Card Making Class at 10 AM on Wednesday, October 9.  The cost is $3 per person.  Final date to sign up and pay is September 29.  We are asking everyone to bring a sack lunch and drink.  Desserts will be provided.  Also, we are asking everyone to bring fine pointed scissors if they have them.
The Worship Team would like to invite musicians (both vocalists and instrumentalists) to sing or play Special Music during the worship service. Please contact one of the Worship Team members for more information. Thank you for using your talents to glorify God!
Bible Reading Plan 2019
You are invited to read through the New Testament during this coming year.  It is a very simple plan.  You are encouraged to read for five minutes and day, five days a week.  After reading the passage you are encouraged to reflect on its meaning and how you can incorporate its teaching into your life.
For a list of the readings for each week, click here: Bible Reading Plan for 2019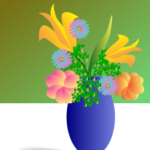 Flower Calendar
If you would like to honor or remember a love one, please sign the 2019 Flower Calendar.  The cost is $40 for two vases.
(Check Back often for Dates and Updates)