WHAT'S ON THE CALENDAR
For children and youth focused events, please see our Youth Ministry page.
Workshop
We are offering an online instructional Workshop entitled "Be a Friend" beginning in February. The purpose of the workshop is to provide training for Christians to invest themselves in the lives of those at risk for being trafficked or exploited for sex. The workshop will meet weekly for one hour for 8 weeks. It will include instruction, discussion, and reflection in a small group setting. Each session will challenge you to practically apply your faith in a new way. If you have any questions about the workshop or you would like to express your desire to attend, please contact Pastor Dennis.
Acolyte Training
We will be holding an acolyte training session on Sunday, Jan. 30 at 9:15 a.m. in the sanctuary.  All children 6 years old and up who are interested in being an acolyte are welcome to join us for this training.  Please see Ellie with any questions.
Thursday Bible Study
Our Thursday Bible study began an Adam Hamilton series entitled "Christianity and World Religions…Wrestling with Questions People Ask."  Bible Study begins 11:30 a.m.  All are welcome.
Sunday Evening Bible Study
The adult video Bible study continues tonight at 6 p.m. Everyone is invited to attend.
Family Services Sunday
Family Service items for February  include the following: A&D diaper rash cream; Vapor Rub; Neosporin; Pepto-Bismal; Antacids; cough drops; toilet paper; paper towels; facial tissues; disinfectant wipes.
Food Bank Sunday
The suggested items for this month are noodles.  Any donation of non-perishable food items is appreciated.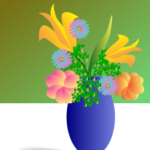 Flower Calendar
If you would like to honor or remember a love one, please sign the 2022 Flower Calendar.  The cost is $50 for two vases.
(Check Back often for Dates and Updates)