WHAT'S ON THE CALENDAR
Geraniums for Pentecost Sunday

Now is the time to order your flowers for the Pentecost Service.  Fill out the order form in your bulletin and place it in a pew envelope with your payment.  Orders are due by Sunday, May 6.
Family Services Sunday
On the second Sunday each month we will be observing Family Services Sunday.  For several years now we have received non-perishable food items for the Altoona Food Bank on the 3rd Sunday of each month.  We have learned that Family Services, Inc, 2002 Broad Ave, puts out a calendar of items that they need donations of each month.  The Session decided that we would ask you to bring these needed items here to the church on the 2nd Sunday of the month to be given to Family Services.  Needed items for May are: canned ham, chicken, tuna; coffee creamer; rice, boxed potatoes; cold cereal, instant oatmeal, grits; juice boxes; boxed snack food, and cake mixes.
Bible Study:   A Clash of Kingdoms: Paul Proclaims Jesus As Lord – Part One
In this fifteenth volume of That The World May Know study series, discover how Paul communicated the Good News of Christ to Philippi, a Roman colony that worshiped false gods. Can you live the message as Paul did while he encouraged the church in Philippi to consider itself a colony of heaven, not Rome? Consider your citizenship and the message you convey to the world as Ray Vander Laan takes you deeper into the culture of ancient Philippi. Experience the Bible in historical context, as you walk in the footsteps of the second missionary tour of the Apostle Paul. Filmed on location in the Greece this study series will transform your understanding of God and challenge you to be a true follower of Jesus. Plan to join us on Sunday evenings at 6 PM beginning on April 8th and running through May 6th.
Lights & Locks
We are in need of volunteers to help out the following months for Lights & Locks: May, July, October, and November.  If you are able to help out a month, please sign up in the Fellowship Hall.
Choir practice is on Wednesdays at 6:30 PM.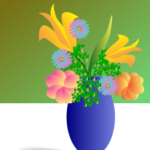 Flower Calendar
If you would like to honor or remember a love one, please sign the 2018 Flower Calendar.  The cost is $40 for two vases.
(Check Back often for Dates and Updates)