WHAT'S ON THE CALENDAR
For children and youth focused events, please see our Youth Ministry page.
Church Picnic
On Sunday, July 24, our annual Church Family Picnic will be held at DelGrosso's Park beginning at 1 PM.  Dinner will be served at 5 PM, and will include a half chicken, potato salad, baked beans, ice cream, and soft drinks.  The reduced cost will be $5 (1/2 chicken).  Please note that there are no kid's meals this year.  Bottles of water and snack bags will be available at our pavilion up until dinner is served.  You are welcome to bring your own drink and purchase in the park if you prefer something other than water.  All-day ride tickets, including the water park, will be available at a reduced rate of $15.  Bingo will be available to play during the afternoon at our pavilion with prizes given to the lucky winners.  Sign-up sheets are posted in the Fellowship Hall.  DelGrosso's will need a firm count by Sunday, July 10.
Mountain Lion Backpack Program
We are happy to serve as a distribution site for the Mountain Lion BackPack program this summer. Sign up sheet on the bulletin board in Fellowship Hall with details. Your responsibilities would be to pick up the bags on Thursday evening between 5:30 and 5:45 p.m. at the old Butterick building.  Distribution here at the Church on Friday evenings from 4-6 pm. We're excited for this opportunity to help those who are hungry and make new friends.
Request for Books
Outreach Team is looking for donations of gently used books for Adults, teens and children. These will be given away in our Community Library as well as be available during Mt Lion BackPack program. Appreciate your help.
Food Pantry
The Food Pantry box is now in place. The pantry is available for all to use as needed, or to make contributions. A list of suggested items may be found on the bulletin board in Fellowship Hall. Our committee would like to thank Ace Hardware, Copy Rite, and Wohler Construction Company for their contributions. We would also like to acknowledge our youth for shopping for the initial supplies to stock the pantry. A dedication service to honor the memory of Andy Falco was held.  A list of suggested donations can be found on this page.
VBS
This year (2022) we hosted Monumental VBS.  At Monumental, kids explored the sunbaked Southwestern desert as they dig into God's great love!  Pictures can be found here!
Thursday Bible Study
Our Thursday Bible Study begins 11:30 a.m. each week.  All are welcome.
Family Services Sunday
Family Service items for July include the following: all-purpose cleaners; degreasers; oven cleaner; rubber gloves; Mr. Clean Magic Eraser; mops, brooms, dust pans; high efficiency laundry detergent; fabric softener sheets; garbage bags – all sizes; ceramic stovetop cleaner; and facial tissues.
Food Bank Sunday
Any donation of non-perishable food items is appreciated.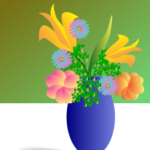 Flower Calendar
If you would like to honor or remember a love one, please sign the 2022 Flower Calendar.  The cost is $50 for two vases.
(Check Back often for Dates and Updates)