WHAT'S ON THE CALENDAR
For children and youth focused events, please see our Youth Ministry page.
Members and Friends of Providence Presbyterian Church, in view of Governor Wolfe's closure of all non-essential services for the next two weeks and President Trump's recommendation that we gather in groups of less than ten and for the elderly to remain indoors, the Board of Session at last night's meeting made the difficult decision to cancel all church events and gatherings until the 10:15 AM Worship Service on Easter, April 12th. The Session will meet on Monday evening April 6th to determine if we need to revise this date due to unfolding circumstances. We are planning to begin hosting a podcast of a worship service on our church website  beginning this Sunday March 22nd for those with internet access. Please check the church website and/or the Facebook page for updated information.
Family Services Sunday
On the second Sunday each month we will be observing Family Services Sunday.  For several years now we have received non-perishable food items for the Altoona Food Bank on the 3rd Sunday of each month.  We have learned that Family Services, Inc, 2002 Broad Ave, puts out a calendar of items that they need donations of each month.  The Session decided that we would ask you to bring these needed items here to the church on the 2nd Sunday of the month to be given to Family Services.  Needed items for April are: high efficiency laundry detergent; bedding/sheet sets – twin size; pillows; towels and washcloths; dish cloths and towels; bathroom rugs; shower curtains; plastic food handling gloves; shower gel; pots/pans/dishes/silverware.
Food Bank Sunday
The suggested food item for April is cereal.  Any donation is appreciated.
Yard Sale
The Outreach Inside Yard Sale will be on Saturday May 9 from 8 AM till Noon.
In preparation, we will set up tables for yard sale Saturday,  May 2,  at 9 am.  They will accept yard sale items: May 4, 5, 6, and 7.  No items will be accepted on Friday May 8.
Proceeds will be dedicated to Krislund Day Camp registrations.
Bible Reading Plan 2020
It's now the year 2020.  The expression "20/20" makes one think about perfect vision.  To have spiritual vision one needs a regular reading of the Bible in one's daily life.  Christian leaders have a vision for 2020 as the Year of the Bible for millions around the world.  They have been joining their resources around the Good Book movement that has garnered support from Pope Francis, Ravi Zacharias, Francis Chan adn over 20,000 churches and ministry organizations in more than 100 nations.  To aid you in your study of the Bible this year, a sample Bible reading plan by the Navigators is included.
For a pdf list of the readings, click here: Bible Reading Plan for 2020
For more information on Navigators reading plans, please visit this webpage.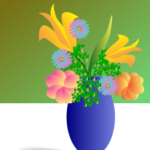 Flower Calendar
The Worship Team has chosen a new florist, Sunrise Floral & Gifts, to provide flowers in 2020.  Increased prices from Warner's Florist Gifts Greenhouses prompted the Worship Team to be good stewards and do some "comparison shopping".  Floral vases will continue to be $20/vase ($40.00 for two vases).
If you would like to honor or remember a love one, please sign the 2020 Flower Calendar.  The cost is $40 for two vases.
(Check Back often for Dates and Updates)