WHAT'S ON THE CALENDAR
Sunday Evening Bible Study
Our  Sunday Evening Bible Study will begin on September 16 at 6 PM.  The topic is "Cultures in Conflict Part 2: Paul Proclaims Jesus as Lord."  Each week we will watch a video by noted Bible teacher Ray Vander Laan.
Family Services Sunday
On the second Sunday each month we will be observing Family Services Sunday.  For several years now we have received non-perishable food items for the Altoona Food Bank on the 3rd Sunday of each month.  We have learned that Family Services, Inc, 2002 Broad Ave, puts out a calendar of items that they need donations of each month.  The Session decided that we would ask you to bring these needed items here to the church on the 2nd Sunday of the month to be given to Family Services.  Needed items for October are: pain relievers for all ages, cold and flue remedies for all ages, diaper rash cream (Desitin), allergy medications, temporal thermometers, medicine cups, antacids, Band-Aids, Neosporin, and Pepto-Bismol.
Choir practice is on Wednesdays at 6:30 PM.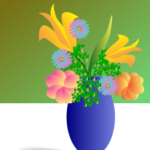 Flower Calendar
If you would like to honor or remember a love one, please sign the 2018 Flower Calendar.  The cost is $40 for two vases.
(Check Back often for Dates and Updates)