WHAT'S ON THE CALENDAR
For children and youth focused events, please see our Youth Ministry page.
For more announcements, check our Podcast page.
Family Services Sunday
On the second Sunday each month we will be observing Family Services Sunday.  For several years now we have received non-perishable food items for the Altoona Food Bank on the 3rd Sunday of each month.  We have learned that Family Services, Inc, 2002 Broad Ave, puts out a calendar of items that they need donations of each month.  The Session decided that we would ask you to bring these needed items here to the church on the 2nd Sunday of the month to be given to Family Services.  Needed items for Feb. are: A & D Diaper Rash Cream; Vapor Rub; Neosporin; Pepto-Bismol; antacids; cough drops; toilet paper paper towels; facial tissues; and disinfectant wipes.
Food Bank Sunday
The suggested food item for Feb. is canned soup.  Any donation is appreciated.
Congregational Meeting
There will be an annual Congregational Meeting immediately following the morning worship service on Sunday, Nov. 22, 2020, for the purpose of electing elders for the Class of 2023 and presenting the budget for 2021.
Santa Bucks
Providence Church will sponsor "Santa Bucks" through Family Services during this Christmas season.  This November, choose an ornament from the Christmas tree for a boy or girl to purchase a toy/book for children up to the age 12.  Unwrapped gifts are due back at the church on Sunday, December 6.  Your generosity will provide an opportunity for local families to enjoy Christmas.
Christmas Poinsettia's
Now is the time to order your poinsettia for the Christmas Eve Service.  The poinsettia will be in a 6 1/2 inch pot with 5 to 6 blooms and the cost will be $8.50.  Orders are due by Sunday, Dec. 6.  Please make checks payable to Providence Presbyterian Church.  Fill out the insert in the bulletin and place it in a pew envelope marked "poinsettia" with your payment.  You may place the envelope in one of the offering boxes at the rear of the sanctuary or drop it off at the church office.
Advent Decorating
The Worship Team will be decorating the church for the Advent season on Saturday, Nov. 28, at 9:00 AM.  "Extra hands" are welcome!  We'll start with coffee, tea, juice and donuts as we "plan our work & work our plan!"
Bible Reading Plan 2020
It's now the year 2020.  The expression "20/20" makes one think about perfect vision.  To have spiritual vision one needs a regular reading of the Bible in one's daily life.  Christian leaders have a vision for 2020 as the Year of the Bible for millions around the world.  They have been joining their resources around the Good Book movement that has garnered support from Pope Francis, Ravi Zacharias, Francis Chan adn over 20,000 churches and ministry organizations in more than 100 nations.  To aid you in your study of the Bible this year, a sample Bible reading plan by the Navigators is included.
For a pdf list of the readings, click here: Bible Reading Plan for 2020
For more information on Navigators reading plans, please visit this webpage.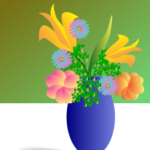 Flower Calendar
The Worship Team has chosen a new florist, Sunrise Floral & Gifts, to provide flowers in 2020.  Increased prices from Warner's Florist Gifts Greenhouses prompted the Worship Team to be good stewards and do some "comparison shopping".  Floral vases will continue to be $20/vase ($40.00 for two vases).
If you would like to honor or remember a love one, please sign the 2020 Flower Calendar.  The cost is $40 for two vases.
(Check Back often for Dates and Updates)