WHAT'S ON THE CALENDAR
Summer Worship
Our Summer Worship schedule will begin this year on Sunday, June 9, and end on Sunday, September 1.  There will be one Sunday morning service at 9:30 AM. No Sunday school classes will be held throughout the summer.
VBS

Our 2019 VBS is To Mars and Beyond!  It will be earlier this year, from Sunday, June 16 through Thursday, June 20 from 6:00-8:00pm.  For more information, and to register online, please click this link.
This year, our mission will be to collect products and monetary donations for Family Services. Please consider bringing paper towels, napkins, plastic silverware, and tissues to stuff our rocket ship full of paper products! We can't wait to see you and all your friends for a week of fun and excitement!
On Thursday, June 20, at 7:15 PM, the last night of Vacation Bible School, join us as we celebrate all the wonderful things the children have learned.
Baseball Game
The church's trip to the  Altoona Curve baseball game scheduled for July 17.  The Hanging Curves will be singing the National Anthem.  All the tickets have been sold.  Tickets will be available after church on June 16.
Krisland Day Camp
Don't forget to register for Krisland Day Camp!
Monday, July 8 through Friday, July 12 at Hollidaysburg Presbyterian Church
It is for children ages 5 through 8th grade.  Please see Peggy Horner for a registration form.  Scholarships are available.
Family Services Sunday
On the second Sunday each month we will be observing Family Services Sunday.  For several years now we have received non-perishable food items for the Altoona Food Bank on the 3rd Sunday of each month.  We have learned that Family Services, Inc, 2002 Broad Ave, puts out a calendar of items that they need donations of each month.  The Session decided that we would ask you to bring these needed items here to the church on the 2nd Sunday of the month to be given to Family Services.  Needed items for July are: all-purpose cleaners, degreasers, bleach, oven cleaner, rubber gloves, Mr. Clean Magic Eraser, mops/brooms/dust pans, high efficiency laundry detergent, fabric softener sheets, garbage bags in all sizes, and ceramic stovetop cleaner.
Church Picnic
On Sunday, July 28, our annual Church Family Picnic will be held at DelGrosso's Amusement Park beginning at 1:00 PM. At 5:00 PM, dinner will be served. We will be providing a chicken barbecue dinner—chicken, potato salad, baked beans, roll, and soft drinks. The cost will be $5 for adults (½ chicken) and $3 for the child portion (1/4 chicken).
All-day ride tickets, including the water park, will be available at a reduced rate of $15. Bingo and other games with prizes will be available to play during the afternoon at the pavilion. Sign-up sheets will be posted in the Fellowship Hall. All reservations must be paid for by Sunday, July 21. Come join your church family and bring other family members and friends for a fun afternoon of fellowship.
Family Picnic/Swim Party
Save Sunday, August 11, for our annual picnic at the Gallace Family home. Bring a friend, a side dish, your swimsuit (if you wish), and join us for a day of fun and fellowship. Hot dogs, drinks, condiments, and paper products will be provided.
The Worship Team would like to invite musicians (both vocalists and instrumentalists) to sing or play Special Music during the worship service. Please contact one of the Worship Team members for more information. Thank you for using your talents to glorify God!
Bible Reading Plan 2019
You are invited to read through the New Testament during this coming year.  It is a very simple plan.  You are encouraged to read for five minutes and day, five days a week.  After reading the passage you are encouraged to reflect on its meaning and how you can incorporate its teaching into your life.
For a list of the readings for each week, click here: Bible Reading Plan for 2019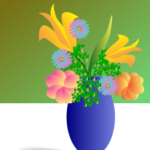 Flower Calendar
If you would like to honor or remember a love one, please sign the 2019 Flower Calendar.  The cost is $40 for two vases.
(Check Back often for Dates and Updates)