WHAT'S ON THE CALENDAR
For children and youth focused events, please see our Youth Ministry page.
Advent Dinner
This week is the final week to sign up for the Advent Dinner (need to sign up by Sunday, November 20). The Advent Dinner will be held on Sunday, December 4. Everyone is welcome! Hope to see you there.
Christmas Parade
Join us on Thursday, December 1 in the parade to share some of the Christmas Spirit with Altoona. We will meet at our truck on the tenth Avenue expressway at 5:45 p.m. Parade Step off is set for 6 p.m., and pick up will be at the end of the parade.
The youth is in need of small wrapped candy to throw at the parade. Please place donations in fellowship hall by Sunday, November 27. THANKS!
Youth Christmas Program
There will be a Youth Christmas program, "The 12 Symbols of Christmas" on Sunday, December 18.  If you would like to be a part of the program and share your talents, please sign up in the Fellowship Hall.  All rehearsals will be held during Sunday School Starting November 27.
Sunday Evening Bible Study
Everyone is invited to join us Sunday evenings for a Video based Bible Study. It is a 4 week Advent series by Max Lucado.
Food Pantry
Please consider donating to the Providence Food Pantry.  Cereal, macaroni & cheese, spaghettio's etc. or any food that is quick and easy for kids in the neighborhood to make themselves.  A full list is posted on the bulletin board in the Fellowship Hall.  Any non-perishable items will be greatly appreciated.
Thursday Bible Study
Our Thursday Bible Study begins 11:30 a.m. each week.  We are currently doing a video base Bible study by Adam Hamilton titled "Faithful – Christmas Through The Eyes of Joseph."   All are welcome.
Family Services Sunday
Family Service items for December include the following:  holiday gifts for infants, children, teens and adults; gift cards for local stores; crayons/markers/Play-dough; disinfectant wipes; pajamas (all sizes); craft supplies; slippers; warm socks for kids and adults; ice/snow melt (salt).
Food Bank Sunday
Any donation of non-perishable food items is appreciated.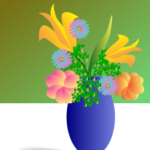 Flower Calendar
If you would like to honor or remember a love one, please sign the 2022 Flower Calendar.  The cost is $50 for two vases.
(Check Back often for Dates and Updates)