WHAT'S ON THE CALENDAR
Altoona Backpack Program

Thursday Feb. 21  4:45 – 6:00 PM
Coffee Fellowship
Congregational Fellowship will be celebrating St. Patrick's Day with you a little early on Sunday, March 3.  We will be hosting an Irish Baked Potato bar during our coffee fellowship immediately following the morning worship service.  Please join us.
Bowling Party

Please join us at the Pleasant Valley Bowling Alley at 4:00 PM on Sunday, March 3.  Everyone is welcome.  The cost is $5 per family, which includes pizza, shoe rental and one game per person.  Sign-up by Sunday, Feb. 24, in the Fellowship Hall.
Pancake Fundraiser
Did you know that we "Spring Forward" on March 10?  Why cook breakfast when we lose an hour of sleep?  Let us cook for you!  Join us for a pancake breakfast to help support our youth projects and events this year.  This event runs from 8 AM until 10 AM.
Jared Box Donations
If you are willing and able, please consider helping out our youth by either donating monetary donations (the youth will go shopping) or donating fun small items that would fit in a shoe box for children in the hospital to play with.  Collection will begin on Sunday, Feb. 17.  Please place donations in the Fellowship Hall by March 24.
Jared Box Mission Project Youth & Family
Mark your calendars now for an exciting family project this spring.  As a Sunday School/youth/families, we will be gathering materials to create Jared Boxes for Children's Hospital in Pittsburgh.  Please try to be at all 3 of the following events:
March 10 – Pancake Breakfast Fundraiser  8-10 AM
March 30 – Shop at Walmart/Boxes/Guest Speaker/Pizza Lunch 9 – 1 PM
April 10 – Pittsburgh Trip to drop boxes off/Carnegie Science Center  8 AM – 6 PM
If your family or youth/child would like to join us on the Pittsburgh Mission Trip, please contact Brigitte by Sunday, February 10, to reserve spots on the bus.  Children under 18 will be free and any accompanying parent or guardian will cost $25.
Sunday Evening Bible Study
Our evening Bible Study starts again on Jan. 14.  We meet on Sundays at 6 PM.  Our topic is The Life and Minsitry of the Messiah and it is part of "That the World May Know" video series and is hosted by Ray Vander Laan.
Family Services Sunday
On the second Sunday each month we will be observing Family Services Sunday.  For several years now we have received non-perishable food items for the Altoona Food Bank on the 3rd Sunday of each month.  We have learned that Family Services, Inc, 2002 Broad Ave, puts out a calendar of items that they need donations of each month.  The Session decided that we would ask you to bring these needed items here to the church on the 2nd Sunday of the month to be given to Family Services.  Needed items for February are:  A+D® Diaper Rash Cream; Pain relievers for all ages; Vicks VapoRub®; Temporal thermometers; Neosporin®; Pepto-Bismol™; Medicine cups; Antacids; Cold & cough medicines; and Cough drops.
Bible Reading Plan 2019
You are invited to read through the New Testament during this coming year.  It is a very simple plan.  You are encouraged to read for five minutes and day, five days a week.  After reading the passage you are encouraged to reflect on its meaning and how you can incorporate its teaching into your life.
For a list of the readings for each week, click here: Bible Reading Plan for 2019

Choir practice is on Wednesdays at 6:30 PM.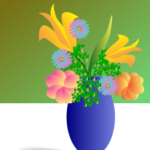 Flower Calendar
If you would like to honor or remember a love one, please sign the 2019 Flower Calendar.  The cost is $40 for two vases.
(Check Back often for Dates and Updates)