WHAT'S ON THE CALENDAR
Piano Recital
Piano Recital on April 26 at 7 PM by Dr. Carole's students.   All are welcome!
Coffee Fellowship
The Fellowship team will be dedicating our May 4 coffee fellowship to honor the choir, organists, pianist, and the bell choir for all the beautiful music they provide.
Church Work Day
Church Work Day on April 27 from 8 AM – 1 PM.
Flowers
Youth and their families please join us immediately following worship on May 19 to help plant flowers around the church.  Bring your work clothes and gloves
Family Services Sunday
On the second Sunday each month we will be observing Family Services Sunday.  For several years now we have received non-perishable food items for the Altoona Food Bank on the 3rd Sunday of each month.  We have learned that Family Services, Inc, 2002 Broad Ave, puts out a calendar of items that they need donations of each month.  The Session decided that we would ask you to bring these needed items here to the church on the 2nd Sunday of the month to be given to Family Services.  Needed items for May are:  TBA
Youth Sunday
Please join us on June 2 for Youth Sunday.  Help us recognize our youth, graduates, and Sunday School teachers and all the hard work they accomplished this school year.  Light refreshments will follow.
The rain date to spread our Kindness Rocks will be on June 2 after Youth Sunday.
If you have a graduate from high school or college please contact the church office by May 12.
VBS

Our 2019 VBS is To Mars and Beyond!  It will be earlier this year, from Sunday, June 16 through Thursday, June 20 from 6:00-8:00pm.  For more information, and to register online, please click this link.
Sunday Evening Bible Study
We meet on Sundays at 6 PM.
Choir practice is on Wednesdays at 6:30 PM.
Bible Reading Plan 2019
You are invited to read through the New Testament during this coming year.  It is a very simple plan.  You are encouraged to read for five minutes and day, five days a week.  After reading the passage you are encouraged to reflect on its meaning and how you can incorporate its teaching into your life.
For a list of the readings for each week, click here: Bible Reading Plan for 2019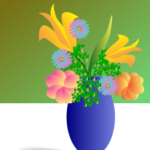 Flower Calendar
If you would like to honor or remember a love one, please sign the 2019 Flower Calendar.  The cost is $40 for two vases.
(Check Back often for Dates and Updates)