WHAT'S ON THE CALENDAR
For children and youth focused events, please see our Youth Ministry page.
Advent Dinner
The Advent dinner will be on Sunday, December 8 immediately following the worship service.  Please sign-up by in the Fellowship Hall if you plan to attend no later than Sunday, November 17.  The Advent dinner's menu will be pork, potatoes, vegetables, rolls, applesauce, cake and beverages.
Christmas Parade (for all ages)
Please come and join us in the parade to share some of the Christmas Spirit with Altoona.  All you need to do is dress warmly and bring your voices to sing Christmas carols.
When and where: Thursday, December 5, 2019 in Downtown Altoona.  Meet at 5:45pm at our truck (with Providence banners) – we will be in line on the expressway.
If you plan on attending please sign up in Fellowship Hall by Sunday, November 24th.  Please call Brigitte Donlan's cell if you can not find the group.  Parade step-off is for 6pm!  Pick up will be at the end of the parade.
Christmas Caroling
Everyone is welcome to join us on Saturday, December 7 at the Presby Home to spread some fun Christmas cheer.  Dress in festive attire and bring your singing voices to sing carols.  We will meet at 1:50 PM in the lobby of the Presbytery Home.  The caroling will take place in the upstairs dining room until 2:30 PM.  Please sign-up in the Fellowship Hall by November 24 if you plan to attend.  If your child would like to sing or play a Christmas song on their instrument, please note that on the sign-up sheet too.
After we are done singing, please join us at the Donlan home for cocoa and some sweet treats.
Christmas Show
The children will be singing during the Advent season in church on Sunday, December 8th.  We will rehearse during Sunday School on Sunday, December 1st and Sunday, December 8th.  Please try to make every effort to be in attendance.   If your child would like to sing or play a Christmas song on his or her instrument please let Brigitte or Ellie know by Sunday, November 24th.
Family Services Sunday
On the second Sunday each month we will be observing Family Services Sunday.  For several years now we have received non-perishable food items for the Altoona Food Bank on the 3rd Sunday of each month.  We have learned that Family Services, Inc, 2002 Broad Ave, puts out a calendar of items that they need donations of each month.  The Session decided that we would ask you to bring these needed items here to the church on the 2nd Sunday of the month to be given to Family Services.  Needed items for December are: holiday gifts for infants, children, teens, and adults; gift cards for local stores; crayons, markers, and Play-dough; disinfectant wipes; pajamas (all sizes); craft supplies; slippers, warm socks for kids and adults; and ice/snow melt.
Love to bake Christmas cookies?
We need your help!! We will be making our homebound friends a Fruit & Cookie Tray to wish them a Merry Christmas. A sign-up sheet is posted in our Fellowship Hall to tell us what kind of cookies (two dozen) you will bake.  Please remember—no nuts or peanut butter.  Please bring in your donations of cookies on Sunday, December 22.
Senior Angels
Christmas gifts purchased for the Senior Angels at the Presbyterian Village at Hollidaysburg need to be wrapped and returned to Providence Church by Sunday, December 22. They will be delivered by the Congregational Care team.
Christmas Mailbox
The Christmas mailbox is located in the Fellowship Hall for you to drop off cards to send to others in the church before the worship service.  Please stop back after the service to pick up cards for your family!
Transportation
The Congregational Care Committee is looking for volunteers willing to provide occasional transportation to those in need for doctor's appointments, shopping needs and/or special, necessary errands.  Please call Kimberly at the church office if you can help.  Your consideration would be greatly appreciated.
"Open & Lock-Up"
We are in need of volunteers to "Open & Lock-Up" the church each month next year.  There is a sign-up sheet in the Fellowship Hall if you are able to help out one month of the 2020 year.
Nursery Volunteers
Any adults who are willing to help in the nursery, please contact Joan Conway before December 1.  Clearances are needed but he cost can be reimbursed by the church.  Nursery volunteers already on the list do not need to contact Joan unless you can no longer help.
Our choir practices at Wednesday at 6:30 PM.
Bible Reading Plan 2019
You are invited to read through the New Testament during this coming year.  It is a very simple plan.  You are encouraged to read for five minutes and day, five days a week.  After reading the passage you are encouraged to reflect on its meaning and how you can incorporate its teaching into your life.
For a list of the readings for each week, click here: Bible Reading Plan for 2019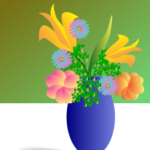 Flower Calendar
If you would like to honor or remember a love one, please sign the 2020 Flower Calendar.  The cost is $40 for two vases.
(Check Back often for Dates and Updates)