WHAT'S ON THE CALENDAR
For children and youth focused events, please see our Youth Ministry page.
Card Making Event
Please join us on Wednesday, October 11, at 1:00 pm, for a card making event. Our talented instructors will be Kathy Braun and Carol Adams. Donations are accepted but not expected. The theme is Veteran's cards, and our card creations will be provided to our local Veterans Home. The church family is welcome to attend, but also encouraged to bring a neighbor or friend since this is an Outreach event. One of our goals is to help new people get to know us, feel comfortable in the church, and most of all, learn to know and love the God we serve. A sign-up sheet is in the Fellowship Hall; please sign-up by Sunday, October 1, so that adequate kits can be prepared.
Community Garden
Fall is coming and it's time to put our Community Garden beds to rest for the cold weather. We are notifying our gardeners and our church family of our goal to have everything cleaned out by the end of October. To that end, we have scheduled a Garden Workday for Saturday, October 21, from 8:00 am to 11:00 am. (Rain date will be on Saturday, October 28.) All willing hands are welcome. In looking to the future, we are seeking a volunteer apprentice to learn the ropes from our garden 'head honcho' Nancy Woomer. Please talk with Nancy or any member of the Outreach Team if you're interested.
Fall Frenzy Night at JB Tree Farm
On Saturday, October 14, we will be at the JB Tree Farm for our Fall Frenzy Night from 6:00 – 8:00 pm. There will be a Hayride, Corn Maze, plus food and drinks. The cost is just $5 per person. Please sign up and pay no later than Sunday, October 8. If you have any questions, Megan Burchfield at msburchfield08@gmail.com
Trunk or Treat
We will be partnering with several other churches again this year for Trunk or Treat. It is scheduled for Sunday, October 22, from 3:00 pm until 5:00 pm. There will be a sign-up sheet in the Fellowship Hall for cars, as well as a box to donate candy.
World Communion Sunday
World Communion will be celebrated on Sunday, October 1, at the 10:15 am Worship Service. This is also the day to turn in your offering for the Peace & Global Witness offering if you have not already done so.
Phil Hall Workday
The Property Committee is scheduling a "Phil Hall" workday for Saturday, October 21, from 8:00 am until 12:00 pm. We will be doing weeding and leaf removal at this time.
Thursday Bible Study
Join us for our Thursday Bible Study at 11:30 a.m. each week.
Family Services Sunday
Family Service items for October include the following: cough drops, Band Aids/Neosporin, diapers & pull ups – all sizes, facial tissues, toilet bowl cleaner, comet/bleach spray, laundry detergent, dish liquid, dishwater pods.
Food Bank Sunday
Any donation of non-perishable food items is appreciated.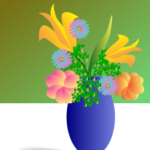 Flower Calendar
If you would like to honor or remember a love one, please sign the 2023 Flower Calendar.  The cost is $50 for two vases.
(Check Back often for Dates and Updates)